As a manufacturer of gypsum board in China, we own ourselves the selling system, including the domestic market and foreign market.

Now we have an annual capacity of 200, 000 tons of gypsum and 30 million square meters of top grade paper faced gypsum boards. We got the certificate of ISO9001: 2000, the national fire---proof, environmental friendly certificate and the ASTM (USA) certificate. Our product's quality improves steadily, and it is extensively recognized by the domestic and the oversea markets such as America, Japan, Australia, Philippine, New Zealand, Middle East, Panama, and so on.

The leading product in our company is plasterboard; It contains standard plasterboard, fire-proof plasterboard, moisture-proof plasterboard, gypsum ceiling tile, self tapping screw, paper joint tape, jointing compound and some other auxiliary material which might interest you.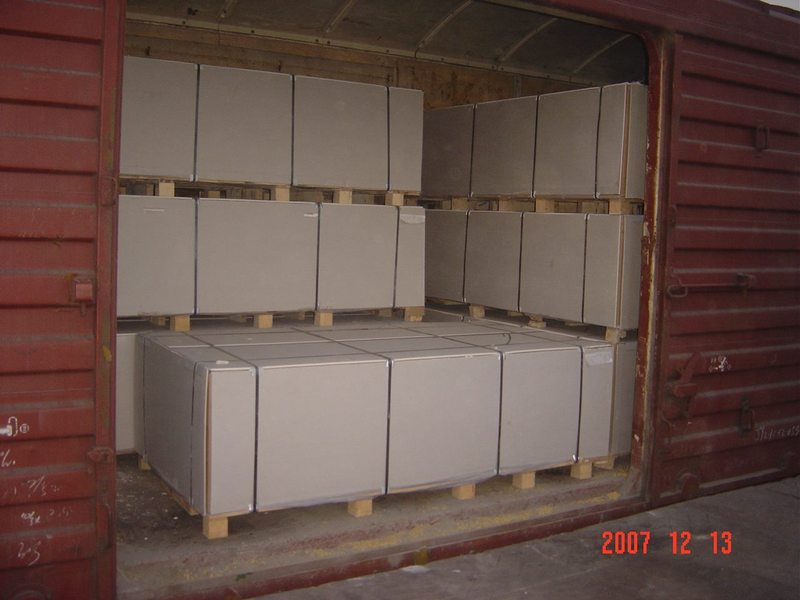 1>, Regular plasterboard:

SIZE: (mm)1200*2400 1220*2440 1200*3600 1220*3600 1200*2500 1220*2500...
Thickness: ( mm) 6.4 to 15.9
Features: White paper-faced, square edge and tapered edge
Packing: In container, by hand

2>, Fireproof plasterboard:

Size (mm): 1200*2400 1220*2440 1200*3600 1220*3600 1200*2500 1220*2500...
Thickness (mm): 6.4 to 15.9
Features: Red paper-faced square edge and tapered edge
Packing: In container, by hand

3>, Moisture-proof plasterboard:

SIZE: (mm) 1200*2400 1220*2440 1200*3600 1220*3600 1200*2500 1220*2500...
Thickness (mm) 6.4 to 15.9
Features: Green paper-faced, square edge and tapered edge
Packing: In container, by hand

4>, PVC (aluminum foiled PET film) for ceiling

SIZE: (mm) 595*595 600*600 603*603 605*605 595*1195 600*1200 603*1212...
Thickness: (mm) 7.5 to 12
Features: Normal design and special paint

5>, Auxiliary materials

Self tapping screw
Size: 3.5mmx25mm, 3.5mmx35mm, 3.5mmx50mmm etc.

Paper joint tape Size: 47.5mmx50m etc

Fibre glass tape: 50mmx90m etc
Packing: 20rolls/box